For many years I've known that my 3 x greatgrandfather, George Campbell, had been a prisoner during the Napoleonic War.  In his letter written from Longwy, France in 1812 he mentions being allowed to correspond with friends, and how he "… have been for these 7 years past ignorant of the state of my friends.".  As George was a ship's captain in later years, and likely also at the time of his capture, I had not tried to look for any information about him in military records.  One series of records that I thought about searching were the Prisoners of War records (ADM 103) at the National Archives in London.  Well, after a number of years of talking about it, last April I went to London and searching these records was my number one priority.
The Prisoners of War series is quite extensive (648 volumes) and includes records about prisoners in British hands, British prisoners in French hands and the exchange of the two.  As I knew when he was captured (ca 1805), when he was released (between March 1812 and Dec 1814), and where he was held (Longwy), I was able to narrow my search to the volumes meeting these criteria.  The bulk of the records I looked at consisted of monthly reports of the new prisoners compiled by the French for each camp and included identification (name, rank and battalion/regiment/ship), date captured and any special notes.  There were a few lists of prisoners being exchanged and some notifications of deaths of prisoners.  The notifications of deaths generally had the most information about a prisoner, but fortunately (unfortunately ?) George Campbell survived his ordeal.
After much searching and finding a number of other George Campbells, I found an entry that appears to be for my George Campbell.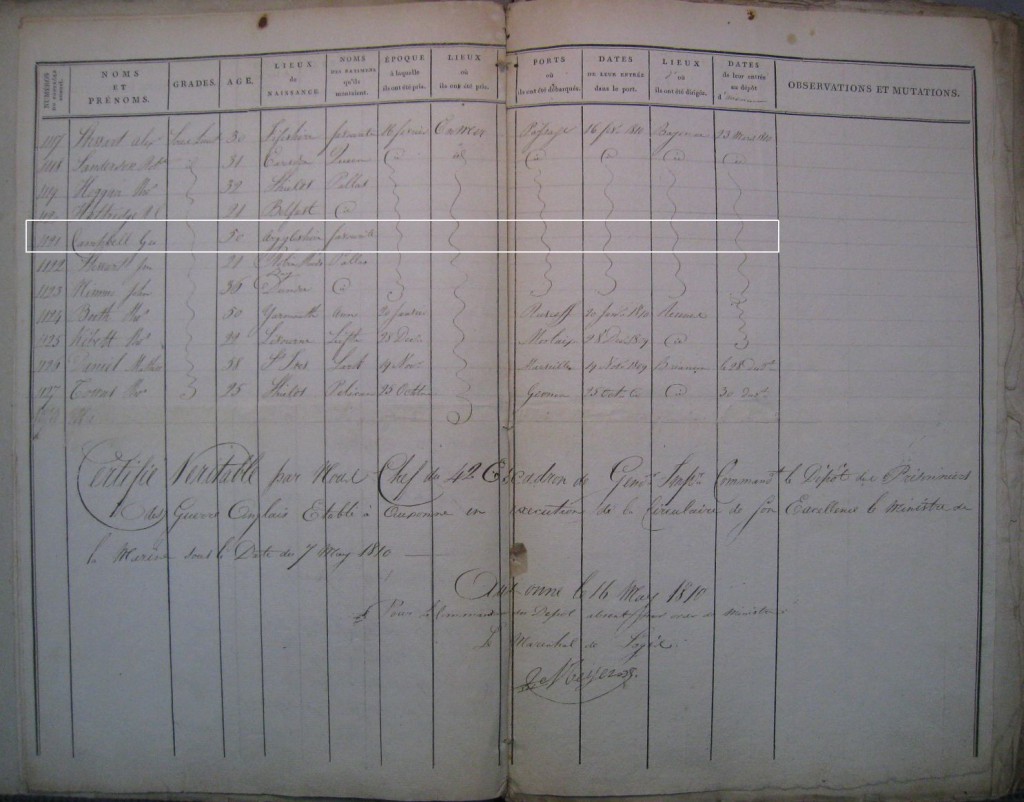 I say "appears" because:
his place of birth is given as Argyleshire whereas his headstone says he was born in Plymouth;
it says he was captured 16 Feb 1810 whereas his letter implies his capture in ca 1805; and
the list was for prisoners at Auxonne.
However:
his age (50) matches his birth in 1760; and
another document in the same folder has "to Longwy" written on it.
So is this my George Campbell?
I have always wondered about whether he was born in Plymouth in spite of that being on his headstone.  Although he was married in London, he has more connections with Scotland as his daughter Ann was baptised in Glasgow, his 1814 letter to Agnew Crawford of Greenock implies that Agnew is a cousin, he talks about working out of Greenock, and he expects Ann and his children to be settled in Greenock.  As well, a search of all know Plymouth church records did not yield a baptism record for George.  Thus, while it is possible he was born in Plymouth, a birth in Argyleshire is more consistent with other information we have about him.
His 1812 letter did not say that he was captured ca 1805 only that he has not had contact with friends for 7 years.  It is possible that for five years prior to his capture he was sailing in other parts of the world.  In fact, in a letter to another sister, John Cameron (Ann's step-brother) talks about meeting his nephews (George's sons) who told him that their father had land in the West Indies.
So, all in all, I believe the above entry is for my George Campbell, but alas, the information contained in it has not led to the discovery of George's parents or any other information about him.